Philip Crawford (@_philipac_) is a US-American artist based in Berlin. His studio practice combines critical essays, works on paper, video, sculpture, and installation in a wide-ranging study of popular representations and "fast images". In his work, Crawford investigates ways to slow down their reading to re-visualize black livingness, unsettle hegemonic historical narratives, challenge systems of oppression, and reclaim technologies of power.
The artist's current body of work revels in notions of selfhood and practices of self-defense in marginalized communities, with a particular focus on the black Diaspora. He is interested in exploring expressions of self-protection that-while often perceived as violent-can also be read as moments of individual and communal self-making. Through his practice the artist hopes to engage others in this study, and to offer a series of spatial, temporal, and conceptual experiments that meditate on blackness and black culture in/as a stand-in for humanness and culture.
Crawford holds a B.A. in History from Stanford University and an MFA in Sculpture from the Tyler School of Art and Architecture. His work has been exhibited in the United States, Germany and the Czech Republic. In addition to his studio practice, Crawford provides artistic direction for decolonial projects in Berlin through Studio Karfi. His published essays and articles investigate the cultural histories of pop culture artifacts in relation to contemporary social struggles.
Philip in his own words:

"Mechanisms of Rebellion
(Baoding Balls)" (2022)
Mechanisms of Rebellion (Baoding Balls) (2022) is a proposition about black life, black livingness, escape, entrapment, rupture, refusal, and radical self-possession. It is also, perhaps more quietly, a critique of the possibility or necessity of the very subjecthood required by those propositions. This time-based installation is part of a project that broadly considers the self (or selfhood) alongside self-defense. Leveraging a oblique popular reference from the film Boyz n the Hood, the video lingers in a brief moment that I would identify, following Sylvia Wynter, as black metamorphosis. It is a mundane instance of liberation as kinesthetic praxis. Through a longue durée, softly pixelated loop, Mechanisms of Rebellion (Baoding Balls) explores both the regulatory (mechanized) nature of knowledge and the liberatory application of ritual practice as defense against regulation. The loop robs the repetitive turn of the meditation balls of their typically improvisational nature, shifting the unidentified black subject into an uncanny valley that, I hope, suggests his failure/refusal to perform the role of the subject.
The silkscreen print
Kinky Hair, Closed Fist (2022)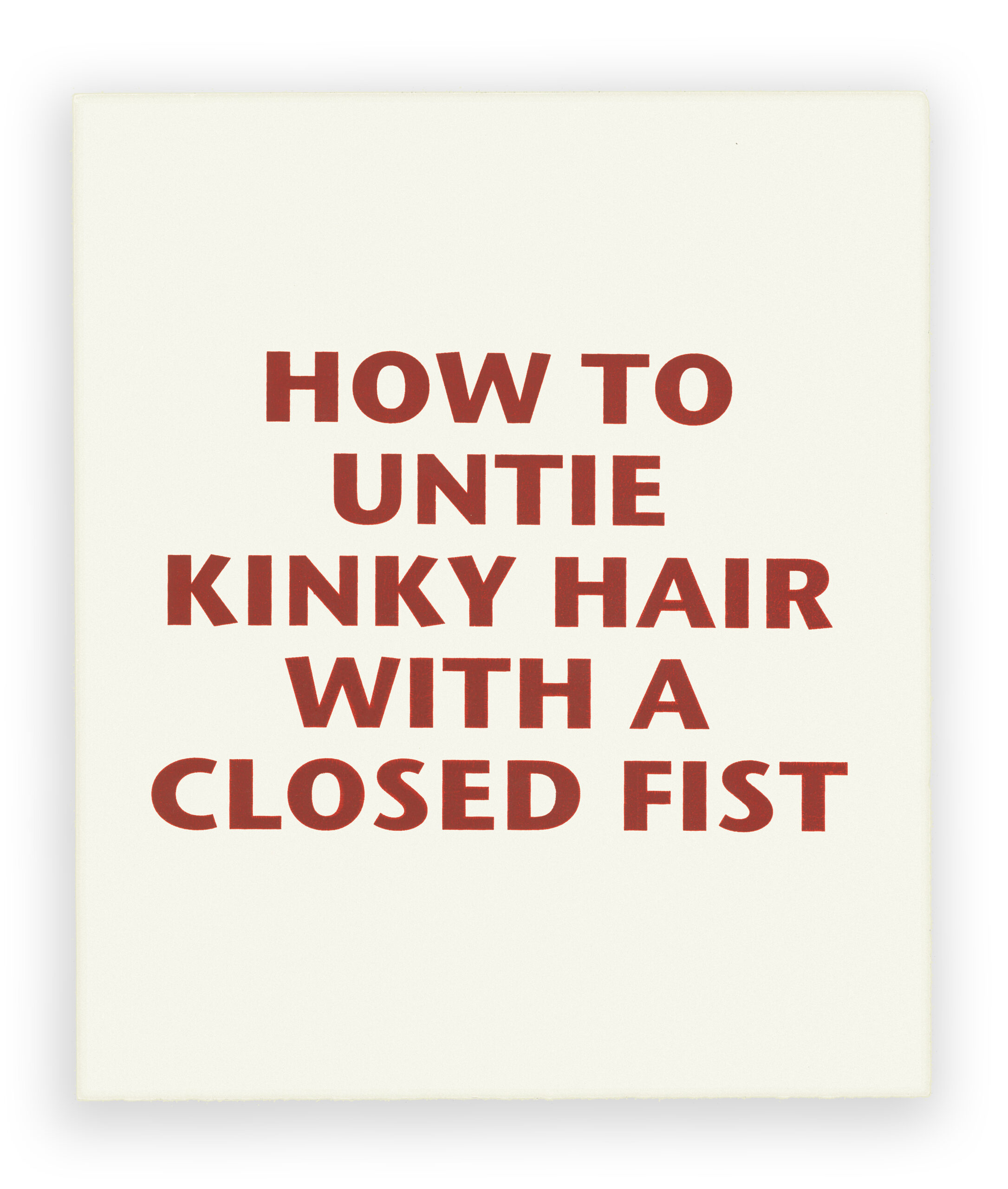 Kinky Hair With A Closed Fist is part of a larger series of text-based prints exploring the form and function of instructional language. Based on the type of text found in martial arts instructional books to teach learners new self-defense techniques, this print challenges the ways we make things make sense. At best, the phrase exists as a riddle, with an answer that can be found only in a creative re-reading, mis-reading or un-reading of an unasked question. How do you untie kinky hair with a closed fist? Do you untie kinky hair with a closed fist? The line is blurred between action and inaction. For me this riddle simultaneously prompts considerations of personal aesthetic sensibilities, political action, and a constant struggle between abjection and affirmation.